VOLVO to Launch The Hunt Challenge Webisodes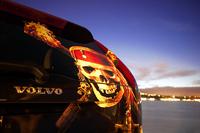 Of all the fans of reality TV shows like Survivor and The Amazing Race, you better add this one to your "must see" list. This time however, you won't see it in your TV sets but in the internet.

"The Hunt" Challenge, which was a part of Volvo's strategic campaign to sponsor the Disney movie "Pirates of the Caribbean: Dead Man's Chest, started the final round of the competition last August 6. The seven finalists were flown to Abaco Island in the Bahamas to complete a series of mental and physical challenges that will lead them to the exact location of the buried Volvo XC90.

The winner of the The Hunt challenge – American David Hutz, a computer programmer from Herndon, Virginia was announced last August 11. He was the first to discover the final location of the buried Volvo XC90 which features designs based on the movie Pirates of the Caribbean: Dead Man's Chest and also equipped with quality Volvo parts like the auto parts found in Auto Parts Fast.

After more than two weeks, reality show fans will now have a chance to see the actual happenings in the hunt, including the challenges encountered by the seven finalists on the islands of Bahamas when Volvo broadcasts an online series of webisodes starting August 25. So watch out for it!