Meet the new "Tiguan" from Volkswagen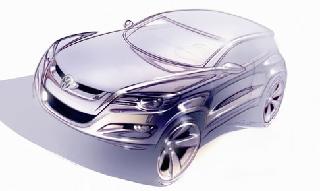 The readers of AutoBild group had made their suggestions and voted for their favorite name for Volkswagen's latest compact SUV. Among the five contenders are Tiguan, Nanuk, Namib, Rockton, and Samun. These names were the best ones that came up at the suggestion forum that Volkswagen opened up to generate an idea on what to name their new vehicle.

And the winner is the Tiguan. About 350,000 voted from ten countries and the clear winner was Tiguan. According to the person who suggested the name, it was derived from the combination of the words tiger and iguana. Sounds wild? Well, just wait and see for yourself when Volkswagen uncovers the Tiguan soon in 2008.

"This unique event is demonstrative of how Volkswagen is opening up: we made a clear appeal to the market - potential buyers could help choose the name Tiguan. The positive reaction shows that this is the right approach." This was said by Dr. Wolfgang Bernhard, the chairman of the board of management for Volkswagen.

The Tiguan SUV will represent the same success as its predecessor, the Volkswagen Touareg in terms of elegance, reliability, and the tenacity of SUVs. While waiting for this new SUV from Volkswagen, why don't you try to browse the latest Volkswagen auto body parts and accessories from Auto Parts Fast?