Looking For The Buried Volvo XC90?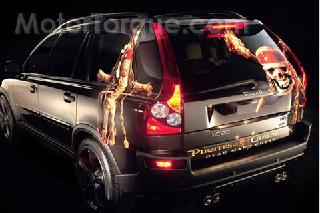 Are you one of the thousands of people looking and searching the globe for the buried Volvo XC90?

Just in case you did not know, Volvo has started a multi-media treasure hunt as part of its support to the new Disney pirate movie, "Pirates of the Caribbean: Dead Man's Chest". And this treasure you would be searching for would be a Volvo XC90 which is one-of-a-kind. This, of course, could be considered quite a treasure. It would take you lots of efforts to create one like that by just sprucing up your vehicle with parts like Volvo hubcaps, mirrors, and weatherstripping from Auto Parts Fast.

The treasure map for such a hunt could be found through the various Volvo retailers in the country. Don't worry. The treasure map is for free. Although you would have to go online at www.volvocars.us/thehunt to register for this hunt. You also would have to go through various challenges, clues, and puzzles that would prove to be quite an adventure.

Just recently, Volvo came out with a list of places where you should not look. The company has guaranteed that the pirate-themed Volvo XC90 would not be found in these places:

• Underneath the uprights of the Meadowlands Giants Stadium. The company is thinking that they might just find something previously buried there so they did not think of burying the vehicle there.

• Neverland. Middle Earth. Willie Wonka's Chocolate Factory. Elizabethtown, Kentucky. The company claims that these might be good ideas to look for the buried XC90 but these just might be the wrong movie for it.

• Inside a huge Cracker Jack box. Just wondering how huge would the box be to contain the XC90.

• Pirates of the Caribbean Ride at Disneyland. Too obvious, the company states.

• Irv Gordon's garage. Volvo is thinking that Gordon just might drive the car around so it would not be good to bury it in his garage.

Happy searching! Who knows? It just might be in your backyard.