And More Strange Things Happen
Autopia reports: It's Hummer Time.

Apparently, the Red Cross and GM's Hummer have recently formed an unlikely liaison. According to Autopia, Hummer is giving the agency 72 of the monster vehicles to use in relief efforts during times of fire, flood, or famine. Curious, I click on to a link and voila, it's Red Cross, the GM Foundation and HUMMER Partner for Disaster Preparedness. The world's largest automaker will also be giving an annual financial gift of $100,000 over the next six years for a total contribution equal to $4 million.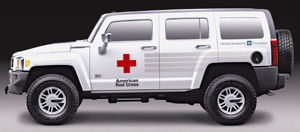 I'm just wondering why of all things bright and beautiful, all creatures great and small – it has to be the Hummer? Sure a Hummer is practically a tank – sturdy enough and capable of carrying people, supplies, victims, pets, furniture etc. etc. But isn't it also the same thing that's more or less helping pollution increase – which in turn, contributes to global warming and the less than healthy lives of people on earth? Not to cast doubt on GM's charitable intentions, but Hummers to help Red Cross? Aren't there other ugh, kinder vehicles?

Or are we just blinded by appearances here?

I've also learned that this isn't the first time that the Hummer was involved in odd activities. In September, GM announced its "Hummer Helps" program. According to the very unimpressed Eric Amster, the program has donated $100,000 (the cost of an H1) to Tread Lightly, an organization whose credo is to "respect the environment and rights of others" while promoting off-road travel "with minimal impact." He cites further in his not so very fond of Hummers column entitled A Hummer doesn't help* that Hummers are three times heavier than most cars and use more than 200 percent more gas per mile. He's quite upset that our air is growing ever worse because some people want to drive ever bigger cars.

Frankly don't get it why somebody like a housewife would want to lumber a monster of a vehicle around. I was parking my Mitsubishi Lancer near a convenience store when this woman arrived with her Hummer. I watched her park with some degree of difficulty; holding my breath for the Civic Honda and the Toyota Sienna family van parked on both her sides. Sure a huge vehicle can do a lot for your ego – but do you really need all that bulk for you and your 7-month old baby?

Me, I'm pretty happy having a small car, even if I already have two precocious kids – the Mitsubishi Lancer is just fine with us. As long as it gets us safely from point A to point B, can be kept fuel efficient with proper care and maintenance, then it's good. Finding auto parts is also a breeze with reliable online auto parts stores like Auto Parts Fast providing premium quality Mitsubishi auto parts like hubcaps, lights and A/C condensers at very affordable prices. I'm not sure if you can get [link=Hummer auto parts that quickly, but I'm pretty sure that I wouldn't want to know any time soon.